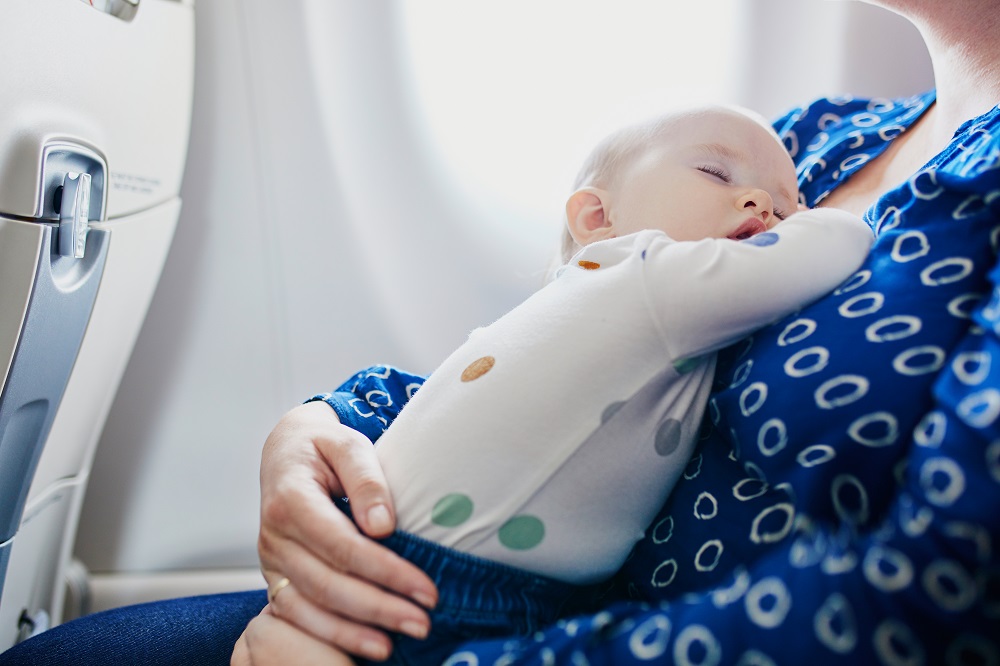 Now that more people are getting their Covid-19 vaccines, more people are planning to fly again. And if you're a breast pumping mom who is planning to fly for work or to see friends and family, you may be wondering, "How exactly am I going to pump on the plane?"
While pumping on a plane can have its challenges, it can be done – with a little preparation and planning.
Here are some frequently asked questions about pumping while flying to help make sure your experience breast pumping on a plane is smooth sailing.
Q: Can I plug my pump in on the plane?
A: The good news is more and more airlines are now offering power outlets on their planes. (Check out this list of airlines and their power outlet offerings).
But the bad news is, even when an airline says they have power outlets on their planes, they're not always offered in every seat, and even if there is one at your seat, it might not work. Also, some airlines offer regular power outlets while others only have USB ports. Also, if you're flying internationally, you have to be careful about the difference in voltages in the outlets.
That's why, to be on the safe side, it's better to bring a pump that relies on battery power instead of one that needs to be plugged in. If you don't have a pump that relies on battery power, you can buy a portable battery pack — you just charge the battery pack ahead of time and then plug the pump directly into that when you need to pump. Or, you can always resort to a manual pump if absolutely necessary.
Q: Should I pump at my seat or in the bathroom?
A: There are pros and cons for pumping in your seat or in the bathroom. You may feel a little more self-conscious pumping in your seat, but luckily, the noise of the plane will prevent most people from hearing what you're doing, and if you bring a nursing cover along, you should be able to do it pretty discretely. Pumping in the bathroom is more private, but you'll have to do it at a time when there isn't a line for the bathroom. If you choose to do it in the bathroom, alert the flight attendant to what you're doing, just to be safe.
Q: What's the best way to carry all of my pumping gear onto the plane?
A: First of all, whether you plan on pumping on the plane or waiting until you get to your destination, never, ever put your breast pump in a checked bag! The chances of the bag getting lost or re-routed is way too high, and you could end up at your destination with no access to a pump — which would not be good. So if you put your breast pump in a roller bag, make sure to tell the flight attendant that you've got a breast pump inside and need to keep it with you on the plane.
Another common problem is that if you're one of the later people to board the plane, you may find that there's no more room in the overhead compartment right above your seat, so you may need to store your carry-on a few rows away from you. This can be very cumbersome when you need to get out of your seat, pull your luggage down from the overhead compartment and take out your equipment.
That's why, if possible, it's best to try to keep your breast pump in a smaller bag that you can store under the seat in front of you. According to the TSA, a breast pump is considered a medical device and does NOT count as one of your carry-on bags, so you should be able to carry your breast pump bag, cooler and purse without a problem. If you're flying with your infant and your pumping supplies, try wearing your infant in a sling or baby carrier so you have your hands free to carry the other bags.
Q: How can I clean my pump parts?
A: It won't be feasible to clean your pump parts well on the plane, so the best thing to do is bring along some gallon-size Ziplock bags and keep the clean pump parts in one bag and put the dirty parts in another bag. Pack enough sets of clean parts for as many times as you'll need to pump on your flight. And bring along some Medela Quick Clean Wipes to wipe everything down, too.
Q: How should I store my pumped milk?
A: Flight attendants aren't allowed to store your pumped milk for you, so make sure you bring along a cooler for storing the pumped milk, and you can always ask the flight attendants to bring you some ice to put in the cooler. You can also get ice from restaurants in the airport before or after you land to put in the cooler.
If you're flying domestically, you should be able to take frozen or partially frozen ice packs through security, too. If you're flying internationally, you may have trouble at customs and have to dump all of your pumped milk. But at least you'll stay on schedule and won't become engorged on the flight!
Q: Can I take pumped milk through security? How about ice packs?
A: Yes, you can take pumped milk through security, and you can take as much as you like because it is considered a "medical liquid," so it does not have to abide by the 3 oz. rule. It's best to tell the TSA agents what it is and keep all of the breast milk in one cooler, and you can also print out a copy of the TSA guidelines and bring them with you, just in case. Also, TSA agents may want to test the liquid. If you don't want them to do that, ask them to use "alternate screening procedures." (As noted above, you may have more difficulty on international flights. Try to check with your airline ahead of time to confirm their policies).
As far as ice packs are concerned, they are allowed as long as they are frozen or mostly frozen. Once they are thawed out, they are considered a liquid and are not allowed. Bring along some extra Ziplock bags just in case, and you can always fill them with ice in the airport after you've gone through security.
Q: What's the best way to pump in the airport?
A: Thanks to a 2018 law, lactation rooms are now required in all major U.S. airports. You'll find that you'll either be pumping in a Mamava pod, which is a small, private room with a bench, table and power outlets, or in a dedicated nursing room, which will usually have comfy chairs, sinks, and changing tables. (Here are some of the best airports for nursing moms). If you can't find a lactation room, or there isn't one near your gate, you can always try to pump in the handicap stall of the restroom, which usually will have a power outlet, or at the gate wearing a nursing cover. Usually the terminal is so loud that no one will hear what you're doing anyway!
It is definitely easier to pump in the airport vs. on the plane, so if possible, try to get in a pumping session in the airport before you take off so you have more room to stretch out and you won't have to worry about getting all of your pumping supplies out on the plane.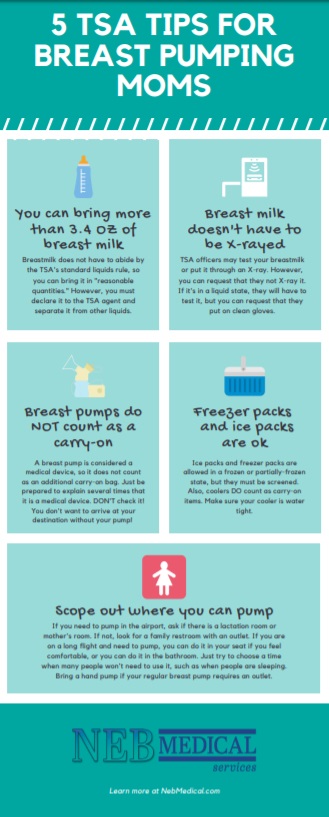 Related Products: