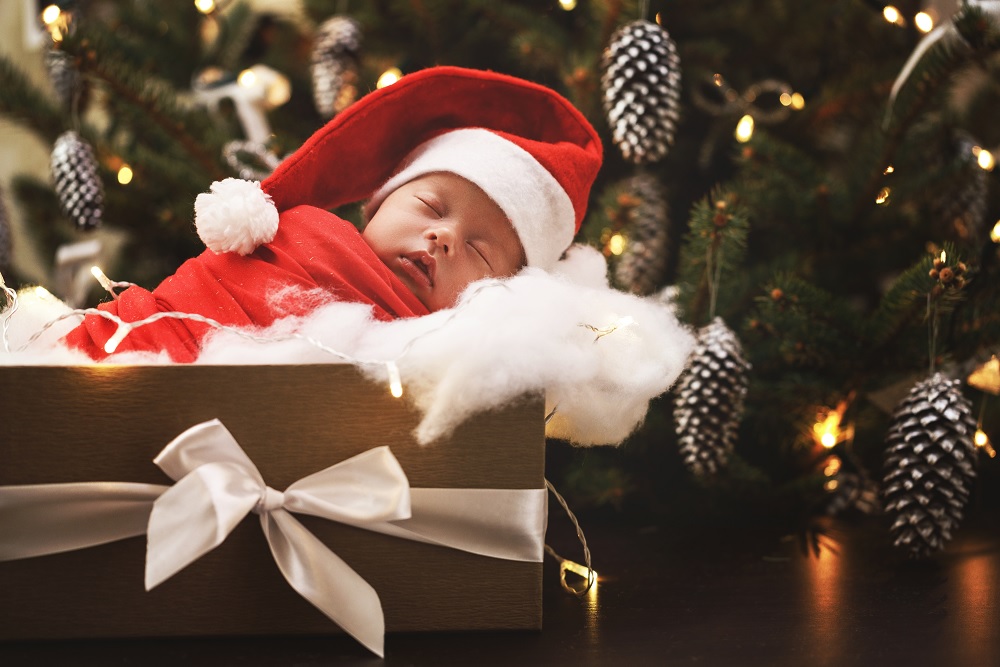 Having a new baby is an exciting time, but for some moms, finding a way to pay for everything they need for the baby can be overwhelming and stressful.
That's where EveryMom Chicago comes in. Founded by Jamie Taratoot in early 2021, EveryMom Chicago is a non-profit that's dedicated to helping pregnant moms in underserved communities get the support and resources they need for those early weeks and months of parenthood.
Taratoot says she was inspired to start the organization two years ago when she met a young woman who was expecting her first child, but had lost her job due to a pregnancy-related illness and was unprepared for her baby.
"I reached out to my community of parents and simply asked 'Does anyone have extra baby supplies they don't need?' and the response was overwhelming. I was able to deliver a car full of supplies and packaged everything beautifully so it would feel like a mini baby shower," she says.
From there, Taratoot expanded her efforts to reach as many new moms as possible who needed help. "We're grounded in the belief that every mom, regardless of circumstance, deserves to feel prepared, supported, and celebrated," she says.
EveryMom currently partners with three hospitals on Chicago's South Side, as well as other non-profit organizations, such as domestic abuse shelters, refugee resettlement agencies and anti-violence organizations, to identify families that could benefit from EveryMom's kits, which contain newborn, postpartum and breastfeeding supplies. So far this year they have delivered 90 kits.
The kits are beautifully packaged and include baby items, such as a selection of seasonally appropriate baby clothes, a sleep sack, burp cloths, baby toiletries, thermometer, board book, infant tub and towel, and more; postpartum supplies to help moms following birth, including thick maxi pads, perineal cold packs, disposable underwear, and toiletries; and breastfeeding supplies, including nursing pads, breast milk storage bags, lanolin, and hydrogel cooling pads.
Plus, when the organization has enough funds and donations, it also provides moms with everything they will need to start breast pumping — such as breast pumps, nursing pillows, nipple shields and nursing tops or nursing bras.
Breastfeeding is especially challenging for low-income moms, many of whom don't receive paid maternity leave and often have to leave their babies in the care of relatives and friends while they go to work. In fact, according to a 2014 article by Cynthia Colen, an assistant professor of sociology at The Ohio State University, 74% of children in families with incomes above 185% of the federal poverty line are breastfed, compared to only 57% of children in families with incomes at or below that threshold.
That's why we at Neb Medical recently donated an entire truckload of breastfeeding and postpartum supplies to EveryMom Chicago.
If you'd like to give back to other new moms in need this holiday season, please consider donating new items that can be included in the newborn kits, buy items off of EveryMom's Amazon wish list or, donate money directly to the organization.
Of course, EveryMom Chicago isn't the only organization that helps out moms in need in the Chicago area. Here are some other great organizations that you can consider donating to this holiday season:
DIAPER BANKS
Chicago:
Cradles to Crayons
Daughters of Destiny
Share Our Spare
Evanston: Bundled Blessings Diaper Pantry
Galesburg: Loving Bottoms Diaper Bank
McHenry: Diaper Bank of Northern Illinois
Quincy: West Central Child Care Connection
Tinley Park: SWADDLE (SouthWest Area Diaper Depository for Little Ends)
Waukegan:
Diaper Depot (from Catholic Charities of the Archdiocese of Chicago)
Keeping Families Covered
ORGANIZATIONS THAT ACCEPT NEW OR USED CHILDREN'S ITEMS
Cradles to Crayons (Chicago): Serving entire Chicago region. Accepts new or used clothing, coats (infant to youth sizes 18/20 and adult sizes small & medium), shoes, boots, sneakers, sandals (infant/child sizes 0-13 and adult sizes 1-10), pajamas (new or gently used only), and books (ages 0-12). Accepts only NEW socks; new underwear; new arts, crafts, and school supplies; new hygiene items; unopened diapers, pull-ups, and diaper wipes.
Grant a Wish 2021 Baby Program (Chicago): Accepts items that are in very good condition or still in the packaging, including glass baby bottles, baby monitors, baby furniture, baby carriers (hospital births), baby wipes, baby pacifiers, baby oil, baby powder, baby equipment, baby blankets for newborns, baby room decorations, baby clothing for infants and toddlers, baby blankets, baby food, diapers, single and double strollers, baby walkers, baby swings, high chairs, activity centers, toys, children's books, car seats, playpens, bassinets, cribs, etc.
The Kid's Pantry (Mt. Prospect): Serving families in the Northwest suburbs. Accepts gently used or new children's items ranging from infant through juniors as well as items for pregnant mothers. Also accepts toys for all ages, as well as strollers, cribs, pack and plays, high chairs, non-expired car seats, large outdoor toys, bicycles, etc.
New Moms (Chicago and Oak Park): Accepts only NEW, unopened items such as gender-neutral children's clothing (ages 6 and under), potty training underwear, onesies (various sizes), socks, children's body care products, gender neutral kids supplies and toys (ages 6 and under), board books, Legos or building blocks, booster high chairs, potty training seats, etc.
Share Our Spare (Chicago): Accepts new or gently used items for babies and toddlers, including strollers, high chairs, pack and plays, nursing and pregnancy pillows, baby clothes (size 0-6T), sleep sacks, baby monitors, baby blankets, baby towels, toys, stuffed animals, etc. Accepts only NEW bottles, breast pumping supplies, nursing supplies, pacifiers, burb cloths, bibs, diapers, wipes, and baby lotions/soaps.
Sharing Connections (Downers Grove): Serves entire Chicago region. Accepts new or used cribs (non-drop side), portable cribs, crib mattresses, toddler beds, car seats (check expiration), strollers, high chairs, booster seats, changing tables, baby clothes, baby blankets. Accepts only NEW diapers and wipes, baby bottles and pacifiers.
Simpson Academy for Young Women (Chicago): Accepts new or gently used women's, baby and toddler clothing, shoes, boots, car seats, play pens, cribs, baby swings, toys, books, and games. Accepts only NEW diapers, baby wipes, and other toiletries.
Related Products: