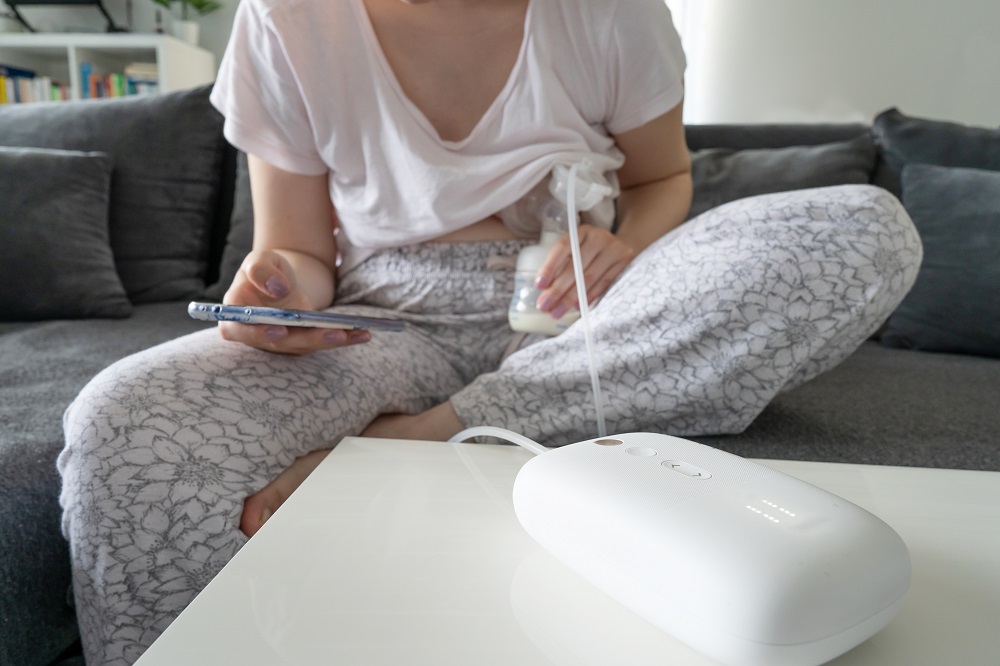 When you're a new mom, you've got a lot of things to keep track of in your brain. How much did my baby eat at her last feeding? How long has it been since she ate? Did I send out that work email I was supposed to? What am I going to cook for dinner?
There's a reason people say new moms have "mom brain."
Fortunately, there are literally dozens of mobile apps that you can download on your phone that can help you with the time-consuming tasks of tracking milk output and pumping times, labeling and sorting your pumped milk, keeping track of which side you last pumped, where you put your pumped milk, and more. (We haven't found any that can tell you what to cook for dinner, but we'll let you know if we find one).
Here are seven of our favorite breast pumping apps that can make your life as a new mom a bit easier:
1. Pump Log
iOS only
Cost: 50 free records to start, $10.99 to upgrade to unlimited.
Pump Log calls itself "the must have app for exclusive pumpers," and for good reason. This app helps you track breast milk production, reminds you when it's time to pump with push notifications, times your pumping sessions and adds a new record with each start time, lets you track how much milk you pumped in ounces or milliliters, lets you record which side you last pumped, and lets you mark your milk as "stashed" and add other notes as needed.
2. Milk Maid
iOS only
Cost: $2.99
The Milk Maid app was designed to help pumping moms manage their supply of breast milk, with tools to see your inventory of fresh and frozen milk in multiple locations like home, work and daycare. It also lets you record pumping sessions. Statistics can be tracked over time to create a history that can be shared with healthcare providers, as well.
3. Baby Connect
iOS and Android
Cost: 7-day free trial, $4.99/month after
Baby Connect offers an all-inclusive activity log for all aspects of your new baby's life, with a pumping data tracker that let you record how much time you pumped per side and the amount you pumped. You can also record notes about your pumping session, create a label, record where you stored your milk and more. Comprehensive feeding and milk stash data are also trackable and shareable.
4. Milk Stash: Breast Feeding App
iOS only (designed for iPad)
Cost: Free
The Milk Stash app helps you by taking the guesswork out of pumping and monitoring milk supply. With this app, you can track and time your pumping, keep track of multiple milk stashes across different locations (refrigerator, freezer, deep freezer), and see trends and statistics. You can also be notified when your stored milk is getting ready to expire. All collected data is securely backed up in the cloud, and the app can be synchronized on multiple devices.
5. Pumping Work App
iOS only
Cost: Free, with in-app purchases available
The "Breast Milk Pump Log for Mama" offers a quick and easy interface to log your pumping sessions and lets you view daily production and summary information clearly. It also has reminders to alert you when your it's time to pump again. (If you've ever waited too long between sessions and your breasts were about to explode, you know how important this feature is!) You can also time your pumping sessions, add pumping logs manually, track how much milk you produced, and export logs in a variety of formats.
6. Feed Baby
iOS and Android
Cost: Free with ads, in-app purchases available
Unlike some of the apps listed above, this one also allows you to track additional information about your baby's habits, such as his sleep schedules, feedings, diaper changes and more. Plus, it has tools to allow you to track when you pumped, how much you pumped and where you stored your milk. Timelines and aggregate summaries help parents track and coordinate all aspects of infant care and share the data across all devices and platforms.
7. MyMedela
iOS and Android
Cost: Free
Breastfeeding can be complicated, but this app makes it easier by providing expert tips and articles to answer all of your breastfeeding questions. Plus, you can track your baby sleep patterns, diaper changes, feedings, length, weight and more. And you can manage your breast milk stash, breast milk storage dates and more. The app also connects with the Medela Sonata and Freestyle Flex smart breast pumps to allow you to record pumping sessions in real time.
Smart Breast Pumps That Connect to Apps Automatically
We carry several breast pumps that sync with their own apps to help you track your pumping sessions and supply, similar to the apps listed above. Here are a few pumps we carry that have this smart technology:
Related Products: