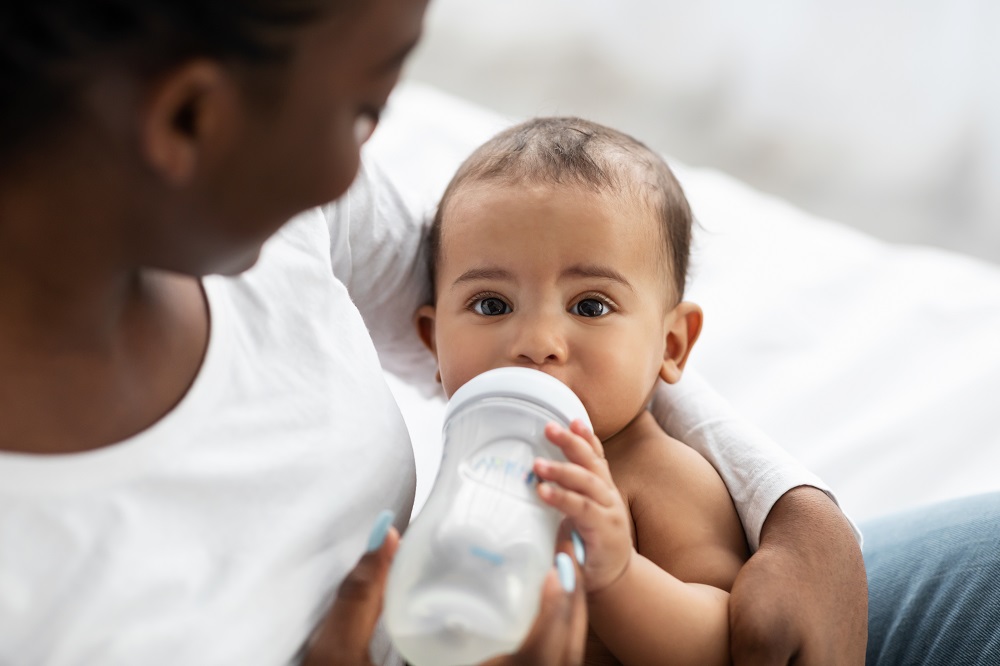 Many people associate bottle feeding with the image of a mom gently cradling a baby horizontally in her lap while the baby guzzles a nearly vertical bottle of milk.
Unfortunately, feeding a baby this way can be very harmful to the baby. It can cause the baby to drink too much milk, which can lead to a host of problems including overfeeding, gas, upset stomach, spitting up, and even choking.
That's why many experts now recommend that parents and caregivers use paced bottle feeding instead.
Paced Bottle Feeding
Paced bottle feeding is a method of feeding a baby that is intended to mimic breast feeding by having the baby control how much milk he or she wants to drink at a time.
To use the paced feeding technique, cradle your baby at a 45-degree angle to the floor. Use the nipple to "tickle" the baby's upper or lower lip until the baby latches on. Place the nipple deep into the mouth until the lips relax. Hold the bottle horizontally and allow the baby to drink naturally. After 30 seconds, pull the bottle down slowly to cut off the flow of milk. Wait until the baby starts sucking again and tilt the bottle back up to restore flow. Repeat this process until the baby is done sucking and stop the feed. Watch a video explaining it here.
By allowing a "conversation" during feeding, paced bottle feeding lets the baby eat until he is full, usually an amount of two to three ounces per feeding. Traditional feeding can force too much milk into the baby's stomach at once, leading the baby to associate being overfull with full.
Also, because paced bottle feeding more closely mimics breastfeeding, it reduces nipple confusion when the baby switches back to nursing at the breast.
Once you learn how to use the paced bottle feeding method, make sure to show your partner and any other caregivers how to do it too, so your baby is safe and so you don't end up feeding the baby more pumped breast milk than necessary.
Choosing the Right Bottle
When starting to bottle feed, it's best not to go all in on a specific type of bottle right away. Try finding out which bottle your baby likes best before committing to a specific type.
If you have a breast pump that comes with bottles that have nipples (not just collection bottles), using these bottles first is often the cheapest option, and if your baby likes these bottles, you can buy more of them directly from the manufacturer.
Here are the breast pumps that we carry that also include bottles with nipples:
Baby Buddha
Phillips Avent
Lansinoh Signature Pro
Spectra S1, S2, 9 Plus and Synergy Gold
Motif Luna, Motif Twist
Zomee Z2, Zomee Z2 Complete Travel Bundle
A few other manufacturers (Medela and Cimilre) also sell nipples separately that will attach to the storage collection bottles that come with your pump, but most other pumps have storage collection bottles but no nipples that attach directly to them.
Instead, you collect your milk in the storage containers, then transfer it into a storage bag, and then transfer it again into a bottle for feeding.
What Type of Material Should I Choose?
Bottles can be made from plastic, glass, silicone or stainless steel. Here are some pros and cons of each type of bottle.
Plastic
A popular choice for many families, plastic bottles are easy to clean and are cheaper than glass bottles. Try to find bottles without bisphenol A (BPA), phthalates and bisphenol S (BPS). These chemicals have been linked to birth defects, infertility, diabetes, and cancer.
Glass
Toxic chemicals are not a concern with glass bottles. They also last longer than plastic bottles. However, they are more expensive and heavier, and may shatter when dropped.
Silicone
Silicone bottles are unbreakable, light, and for the most part, free from toxins. However, they can be expensive, and depending on the brand, hard to find.
Stainless Steel
Stainless steel bottles are shatterproof, toxin-free, long-lasting and lightweight. However, stainless steel bottles are not transparent, so it's hard to know how much milk is left in the bottle. They can also be expensive.
What size/shape baby bottle do I need?
Choosing the right size bottle is important, especially because you don't want to put too much pumped breast milk in a large bottle that your baby won't end up drinking.
When a baby is a newborn, you'll want to start out with a small, four-ounce bottle, the average amount a newborn will consume in one feeding. As babies grow, their appetite is likely to increase, and they will likely drink more milk at each feeding. By 2 months, a baby will drink about 6 oz. per feeding, and by 4 months, babies can drink as much as 6 to 8 oz. per feeding, so you'll have to start using larger size bottles as the baby gets older.
Choosing the right bottle shape is also key. Standard bottles have a straight neck and will fit into bottle warmers and car cup holders. But if you want to reduce the amount of air a baby swallows in a feeding, you might want to try an angled bottle with a curved neck.
Also, if you want to reduce the risk of nipple confusion, try using shorter, rounder, wide-necked bottles and a wider nipple to mimic drinking from a real breast.
Again, it's best to try different options to find out which one baby likes best.
Nipples
There are three things to consider when choosing the right nipple for bottle-feeding your baby: flow rate, nipple size and shape and material.
Flow rate. Stage 1, or slow flow nipples, are best for newborns or smaller babies. By the time your baby is 3 months old, you'll want to switch to Stage 2 nipples, which have a faster flow rate. By this time, it's likely your baby will drink more milk at each feeding. While some babies might be content with a Stage 2 nipple indefinitely, if your baby starts pulling hard on one, try a Stage 3 nipple.
Nipple shape. Traditional nipples are long and narrow. Wider, shorter nipples are intended to be more breast-like, again to reduce possible nipple confusion if mom switches between breast and bottle. "Flat one side" nipples are designed to simulate sucking from the breast and are a better fit for some babies' mouths.
Nipples are typically made from latex, rubber, and silicone. Latex nipples are cheap and flexible, but they wear out quickly and some babies may have a latex allergy. Natural rubber nipples are toxin-free, softer, and bite resistant. Silicone nipples are harder, meaning babies are more likely to reject them, but they are long-lasting and toxin free.
Related Products: