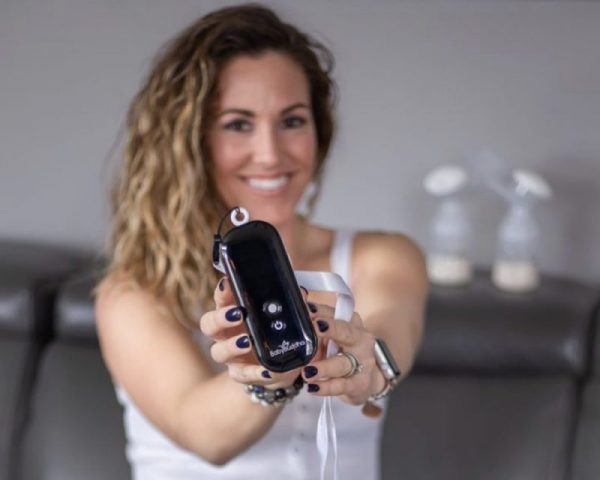 Choosing a breast pump can be an overwhelming process, especially when there are so many to choose from! Before we get started, keep in mind there is a good chance you can get a breast pump covered through your insurance. If you happen to be an Illinois or Wisconsin resident, click here and let NEB Medical Services check your benefits and help you get a breast pump!
Different types of pumps
Manual breast pumps – These pumps require no electricity and allow for clean, portable and quick pumping sessions.

Personal double electric breast pumps – These pumps run on electricity which comes from either a main source or batteries (some of which are built-in, rechargeable batteries or USB). They are single user pumps and made to withstand one pumping journey. They also express milk quickly from both breasts at the same time, making them an ideal choice for working moms or those who need to express milk regularly and efficiently.
Shop Now.
Silicone breast pumps (also known as a milk catcher) – This is a small silicone bottle that suctions to the breast and almost effortlessly collects breastmilk while nursing. A really great brand to check out is the haakaa.
Multiuser hospital grade pumps – These pumps are made with very durable motors. They are heavy duty pumps with closed systems, making them safe to be used by multiple users for many years. Hospital grade pumps are double electric pumps, which means they efficiently express milk from both breasts at the same time. Your insurance company may cover the rental charge for this pump, call your insurance provider to verify coverage for E0604.
Wireless/ hands free pumps – These breast pumps are modern and new to the market. The wireless pump is completely tube free and simply sits right in your bra. Unlike a double electric pump, this pump is sold as an individual unit and only pumps one breast at a time. There is an option to purchase two units, but that does come with a hefty price tag. The convenience and size of this pump is fascinating, at the time same, unless you are an experienced breast pumping mom with an established milk supply, you may want this pump as a back to your standard double electric.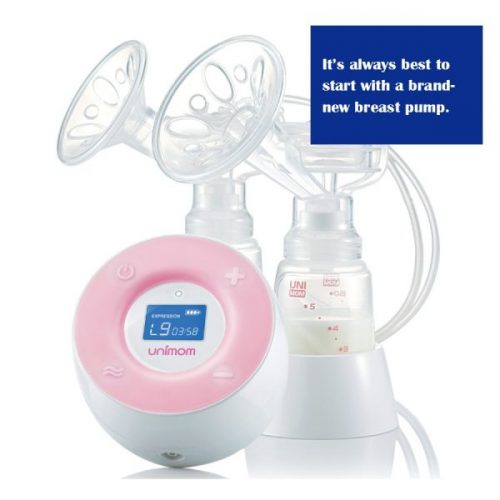 It's always best to start with a brand-new breast pump. If a friend offers you her old breast pump, kindly decline the offer. Although it's a kind gesture, using a handed down pump or the same pump for multiple years is only going to do you a disservice in the future. The motor inside breast pumps wear out over time and a weak motor in a breast pump inevitably will lead to poor suction. The combination of a weak motor and poor suction will convert to poor milk transfer from the breast which unfortunately will lower your milk supply and trigger premature supplementing and confidence issues.
Here are several characteristics to consider when choosing a breast pump.
Strength
You will often hear moms talk about the strength of the pump, but what she is really trying to consider is the strength of the motor inside the pump. All breast pumps come with a warranty on the motor and the warranty is basically going to tell you how long the manufacturer will stand behind the pump and the motor performance. Anything beyond that warranty date will not be insured. Therefore, to guarantee you are getting the most strength out of your breast pump, start with a brand-new pump!
Suction
Breast pump suction level is measured in mmHg or millimeters of mercury, the standard unit of measuring vacuum pressure. All personal double electric pumps (and hospital grade) have comparable mmHg levels, providing good amounts of suction for mom. The best suction will be achieved when the pump and the parts are connected securely. Click here to read a detailed article on the importance of valves and suction.
Open vs. Closed system
A closed system breast pump has a barrier in between the milk collection kit and the pump mechanism, while an open system does not have a barrier of any kind. There is a small chance milk could enter the mechanism and/or the tubing and start to mold. Medela personal pump breast pumps are still operating with an open system. I know mothers have been happily pumping with the Medela for decades, but the small risk is worth mentioning.
Portable and Discrete
The size and weight of the breast pump matters. As a quick example, the Spectra S2 is a much larger and LESS discrete pump than the tiny and wearable BabyBuddha There is no correlation between size and power. If you commute to a job on a train for example, it might be best to get a wearable or smaller pump. Or, you can always get two pumps! Leave one at work and keep one at home.
Noise level
The noise levels of the pumps vary significantly! If you end up pumping while taking a conference call or on a commute, you might want to consider a quiet pump. Do your research or simply let our customer service team help you!

Power source Not all pumps require a traditional wall outlet as the power source. Some pumps come with the option of using a rechargeable battery, inserting double AA batteries or even using a USB charger. It is very important to consider if this will impact your pumping sessions and choose a pump that has options you like.
Features
Every breast pump on the market has unique features and adjustable controls which allow you to find your comfort level while pumping. We have a helpful page of informational videos demonstrating how to use each of our pumps. Click here to check it out!
Technology- Smart pumps
The Lansinoh Smartpump and the Medela Sonata are considered smart pumps because they sync to apps through Bluetooth. The apps automatically track the date/time and duration of pumping session as well as how much milk you pumped. The apps can store diaper output info and other personal info! This is good to have on hand for pediatrician appointments and for lactation appointments. The Medela app also offers a membership program that gives you instant access to live lactation consultants, day or night in real time.
Replacement parts
Medela is easily found in several big-name box stores. Most other pump brands are not so easily found, but replacement parts can be ordered directly from their websites.

Breast Shield (flange) Size offerings and inserts Keep in mind, breasts change shape and size throughout pregnancy and nursing journeys. Making sure to find the correct flange size while pumping is very important. Keep in mind, some pumps provide you two different flange sizes and some only provide one. If you own a pump that only comes with one flange size and it's not fitting, don't freak, you can always purchase different flange sizes on the manufacturer's website. Click here to read a very informational article on flange size.
This blog post has been brought you by Neb Medical Services.
Neb Medical Services provides families high-quality, insurance covered breast pumps, maternity accessories, and nebulizers straight to your doorstep. NEB Medial has been in business for fifteen years and is conveniently located in the Chicagoland area. If you are an Illinois or Wisconsin resident, see if you qualify for a free breast pump!
Related Products: