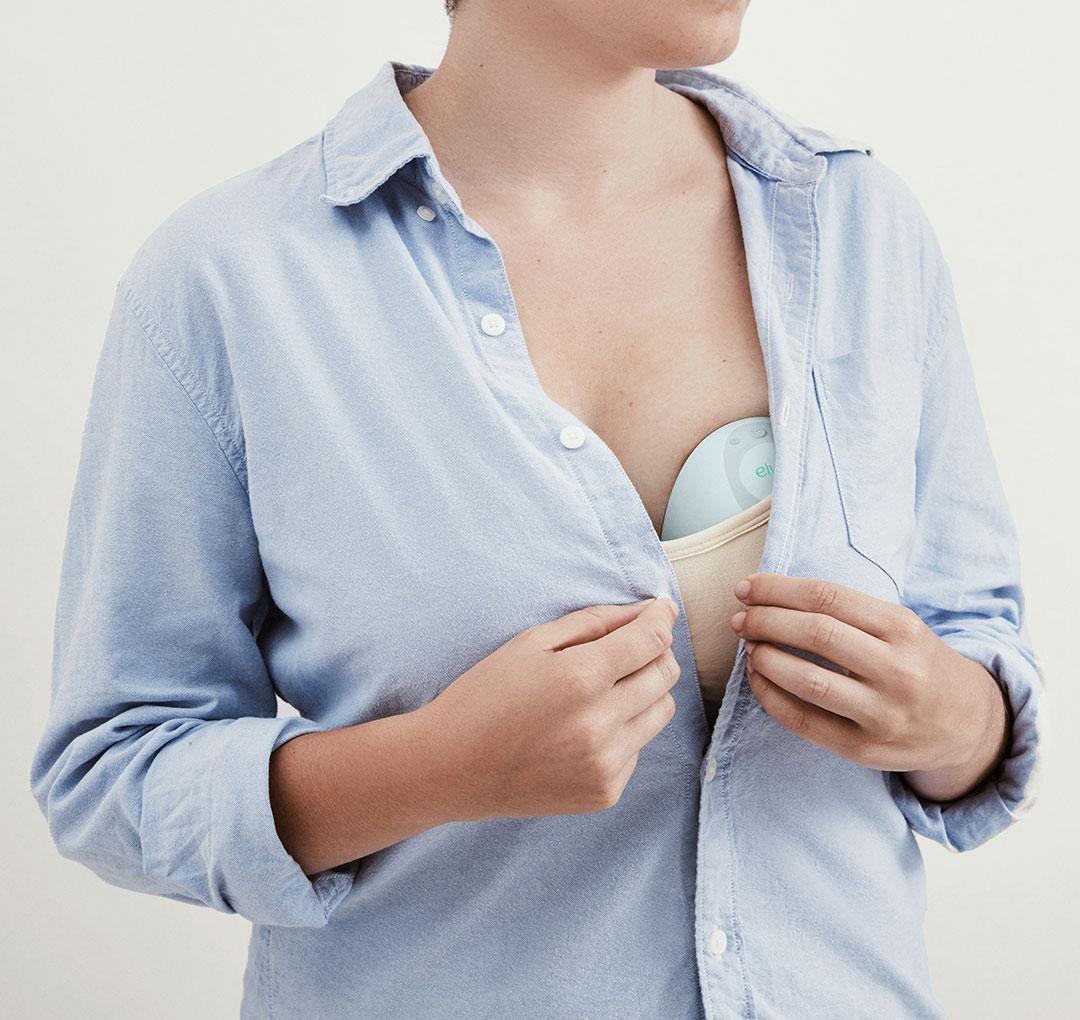 In the past few years, a new type of breast pump has come on the market that has been a game changer for many moms: the wearable breast pump. These breast pumps are just what they sound like — breast pumps that you can wear inside your bra without any tubes getting in your way.
Because wearable breast pumps don't have any cords, moms are literally set free, able to pump while they drive, work, do dishes, take care of their baby and more.
There are three main brands of wearable breast pumps: The Elvie, the Willow and the Freemie Liberty, although the Freemie has a cord that connects it to the pump, so it's not completely wireless.
There are also several brands, including the BabyBuddha, Spectra 9 Plus and Ameda Mya Joy, that make portable breast pumps, which means that you can walk around while you pump, but the pump itself does not fit inside your bra.
Of course, like any pump, wearable breast pumps also have their drawbacks. If you're considering buying a wearable pump, here are some of the pros and cons to consider.
PROS
More Mobility
Being able to freely walk around and do things while you pump is the number one reason that wearable breast pumps have become so popular. Who wants to be tied to a breast pump for several hours a day? But how mobile you can be, depends on the pump you choose. With the Willow, you have the option of pumping into their proprietary spill-proof bags, which means you can pump while you're doing anything from sleeping to doing yoga to running a marathon. The Elvie and the Freemie, on the other hand, are designed to have milk pumped into a container, and that can spill if you do too much movement, so they're great for driving and walking around, but not doing anything too crazy.
Discreet
With most breast pumps, even if you're able to check your email while wearing a hands-free pumping bra, you'll still have to pump in a private place because you have flanges sticking out of your bra that are attached to bottles. But with wearable breast pumps, you can wear them inside your bra, under your shirt, so you can actually wear them while grocery shopping, driving or working at the office. Yes, wearing the pumps inside your shirt may make you look a little like Dolly Parton, but at least you can pump while out in public. (If you're someone else who can't really take a pumping break at work, this can be especially helpful).
Quiet
Both the Elvie and the Willow pumps are some of the quietest on the market, so again, you are able to wear them under your shirt without most people even knowing that you're pumping. Elvie claims that their pump eliminates any noise, while Willow claims that it is "quiet."
Easy to Clean
Both the Elvie and the Willow have very few parts, making them extremely easy to clean. The Elvie has just five parts (valve, spout, bottle, seal, and breast shield), and the Willow has only two (the flange and a tube that connects to the pump), and both companies say you can wash the parts by hand or put them on the top rack of the dishwasher.
Smart Technology
Both the Elvie and the Willow have apps for iPhones and Androids, which allow you to do things such as adjust your suction levels, switch between stimulation and expression modes, monitor how long you've been pumping and track your milk output each day, right from your phone. How cool is that?
CONS
Price
The biggest drawback to getting a wearable pump is its heafty price tag. Both the Elvie and the Willow retail for $499 each, making them most expensive pumps on the market. However, many insurance policies allow you to get the Elvie or the Willow for an upgrade, meaning you could get it at a significant discount. (Contact us and we can find out whether they are covered under your specific insurance policy). And, even if your insurance doesn't cover a wearable pump, both pumps are FSA/HSA eligible, meaning that you can pay for them using money you have set aside in a tax-free Flexible Spending Account.Also, keep in mind that if you go with the Willow pump that uses reusable bags, you'll have to pay for the bags as well. The bags cost $0.50 per bag, and since you have you have a bag on each breast, it will cost you $1 per pumping session, which can quickly add up.
Charging
Because there are no cords attached to wearable pumps, you have to remember to charge them. (The Willow only comes with one charger, so you need to either buy an extra charger, or remember to charge each side. The Elvie comes with two chargers). The Elvie takes about two hours to fully charge and will last for about two-and-a-half hours. When the Willow is fully charged, it will last for about five pumping sessions.
Suction Strength
The suction strength for wearable pumps is not as strong as hospital grade pumps. For example, the Elvie's maximum suction strength is only 220 mmHG, while the Willow's is 245 mmHg —significantly lower than the Spectra S1 is 270 mmHg at its highest setting, similar to a hospital grade pump. This means you'll most likely produce less milk per session with a wearable pump. However, some women produce better with a gentler suction.
Related Products: