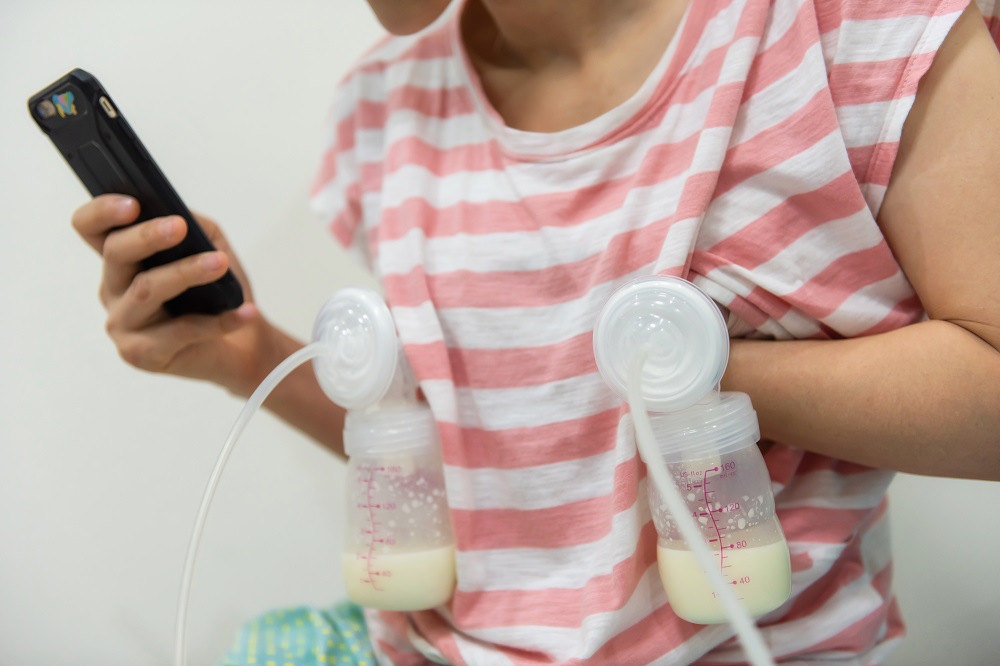 When experts tout the benefits of breast feeding vs. formula, they usually say that breastfeeding is by far the cheaper option. And while breastfeeding is cheaper than formula, if you're planning on pumping, it's not exactly free.
Not only do you have to purchase a pump, but you'll also have to purchase many other breast pumping supplies on an ongoing basis. For example, many breast pump parts, such as valves, tubing and backflow protectors, need to be replaced every few months to make sure that the pump is working properly. And that doesn't even include the bottles, breastmilk storage bags, cleaning supplies and other things you'll need.
However, don't let these costs deter you from breast pumping! It turns out there are lots of ways to save on both the cost of purchasing a breast pump and breast pumping supplies.
One thing to keep in mind, however, is to never try to save money by using a used pump. Breast pumps are only designed by their manufacturers to last the length of their warranty (about one to two years). Once they reach that time limit, the motor and other parts may start to malfunction, causing them to lose suction. That could mean that the pump won't empty your breasts as effectively, and you may lose milk supply or even end up with clogged milk ducts or mastitis. Trust us — do not try to save money with a used pump!
Instead, follow these tips for saving money on breast pumps and pumping accessories:
Get a Breast Pump Free Through Insurance
If you've got medical insurance (or even if you just have Medicaid), there's no reason to spend money on a breast pump. Insurance companies are required by law to cover breast pumps, so all you have to do to get a pump for free is to ask your doctor for a prescription and then give the prescription to a medical equipment company. They'll let you know which pumps your plan will cover and ship one to your door. For free!
Get Breast Pumping Supplies Free Through Insurance
Did you know that some insurance plans cover breast pumping supplies in addition to just covering the pump itself? At Neb Medical, we supply many products through insurance such as bottles, flanges, tubing, and milk storage bags. Just fill out our Qualify Form or Re-Order Form to find out if you qualify to get these items for free.
Set Up a Flexible Spending Account
This one is a total life saver. If you or your spouse has a job with benefits, you can probably set up a Flexible Spending Account or a Health Savings Account, also known as an FSA or an HSA, which are special, tax-free accounts that you can put money into to pay for medical expenses. (FSAs are available for people with low-deductible health plans and HSAs are for people with high-deductible plans). You can typically save up to 30% on the money you put into an FSA by not having to pay taxes on it, and FSA accounts can cover everything from breast pumps to all of the accessories you'll need, including nursing pads, breast milk storage bags, breast milk coolers, maternity belts, pumping bras, nipple shields, breast pump car adaptors and more. You can open an FSA during your open enrollment period (usually in November or December) or after a major life event, such as having a baby.
Sign Up for a Baby Registry at Target, Buy Buy Baby or Amazon
Target, Buy Buy Baby and Amazon all have lots of options for breast pumping gear. Target carries replacement flanges, tubes, valves and more for several breast pump brands, including Medela, Spectra, Lansinoh, Elvie, Evenflo and Willow. Buy Buy Baby carries replacement parts for Medela and Spectra, and Amazon has replacement parts from Medela, Spectra, Lansinoh, Motif, Ameda, Zomee and more. Plus, all three retailers sell a variety of other accessories you'll need, such as breast milk storage bags, bottles, pumping bags, nursing bras, power adaptors and more.If you put these items on your registry, not only can your friends and family buy some of them for you, but you can also save 15% on items that you buy yourself from your list. (At Amazon, you can save 10% on remaining items on your registry or 15% if you are an Amazon Prime member).

Plus, all three retailers give you a welcome gift filled with free samples and coupons when you create your baby registry. Can't go wrong with that!

Sign Up for Medela Family
Another way to score free gifts is to sign up to receive emails from Medela Family. Not only will you get tips and advice about breastfeeding, but you'll also receive a free box of samples of breastfeeding products.
Look for Items in Facebook Groups for Breastfeeding Moms
Another way to save on pumping supplies is to look for Facebook garage sale groups, Facebook Marketplace or Facebook groups designed for breastfeeding moms. Often, you'll find moms selling extra bottles, flanges, baby coolers, pump bags and more, often that haven't even been opened. Remember, you don't want to buy used pumps, or used items that could be contaminated by milk such as valves or tubing, but if it's still in the packaging, this can be a goldmine.
Skip Buying Breastmilk Storage Bags
Breastmilk storage bags are nice to have if you are exclusively pumping or if you want to have a huge stash of breastmilk, because they definitely save space in the freezer. However, if you plan on feeding your baby within four days of when you pumped the milk, you can save yourself some money by storing the milk directly in bottles in the fridge. (This also saves a bit of time, since you won't have to transfer the milk from the storage bags to bottles for feeding).
One More Tip
Although this doesn't apply to breast pumps or breast pumping supplies, it's worth noting that Target has a semi-annual promotion where you can bring in an old car seat and get 20% off on any new baby gear that you're buying. In 2021, it's happening from now through Sept. 25. This is great if you're having your second kid, or have a friend who can give you an old car seat to donate.
Related Products: